I recently read a book titled 'Half Time' by Bob Buford and in it was an excerpt of a speech by John Gardner...
"Meaning is not something you stumble across like an answer to a riddle or a prize in a treasure hunt.
Meaning is something you build into your life – out of your past – out of your affections, loyalties, experiences, your talents and understanding, The things you believe in and out of the people you love …
The ingredients are there. You are the only one who can put them together into that unique pattern that will be your life."
You know, I love that idea! "The ingredients are there – I am the only one who can put them together into that unique pattern - that is my life." Now if that doesn't get ya thinking!! So what is my unique pattern that I have woven for my life in the past 58 years (58th birthday in Jan)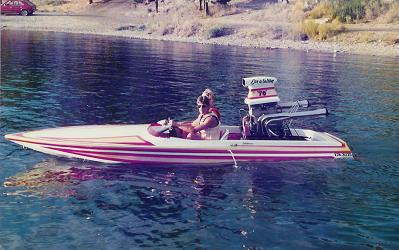 I've got some "crazy" in my life patterns, like:
- Driving my dad's dump truck – on the road when I was 8 years old (and yes I got stopped by the cops)
- When I was 10 yrs old I had to give up my motorcycle - my parents found out I was doing 100 miles per hour
- Piloting and crashing a Cessna 172 airplane
- Racing our 800 horse power Cougar Flat bottom drag boat – and getting a little air born at 120+mph
- Barefoot water skiing – and breaking my femur
But I have been able to be involved in some pretty good things also:
- Building a 38 Chev Coupe and driving it to grad
- Getting married to Marlene
- A father to Jared and now his wife Tianna, PLUS soon to be a PaPa
- Missions Trips to Mexico, Guatemala , Africa, Thailand , Malaysia, Cambodia, France, Portugal, & Ireland
- Sponsoring water wells in Tanzania, Ghana, and Benin
- Supporting children in Thailand
- Helping thousands of clients over the past 34 years with their move-providing a World Class Real Estate Experience and becoming their "Realtors For Life"
Ok – so that's a snapshot of my life. Some of the things I am happy with and
others – well?? As I look back at my first adulthood – (say the past 30 years) some of the things that were meaningful to me then, are not meaningful anymore. But here is the cool part: I can change my idea of what is meaningful. So, let's go back to the speech- "...out of my past – out of my affections, loyalties, experiences, my
talents and understanding, things I believe in and people I love" -what meaningful patterns am I going to weave into my 2nd Adulthood (say the next 30 years)? Now that is an exciting thought –What a great question – and I look forward to answering that in the years to come. How about you & the patterns that you have woven? Has there been meaning?
Your friends in the business,
Larry & Marlene